Heart Failure Quick Guide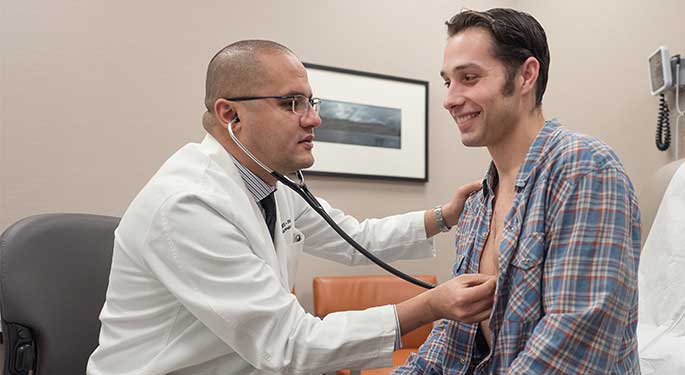 Ready to take the next steps to excellence in managing heart failure in primary care? Review the Mount Sinai Heart Failure Care Pathway or discover services available to MSHP Clinically Integrated Network providers to achieve team-based care.
---
Medications
Starting and Target Doses of Select Guideline-Directed Medical Therapy (GDMT) for HF
Starting Dose
Target Dose

ARNI

Sacubitril/valsartan
24/26 mg - 49/51 mg 2x daily
97/103 mg 2x daily

ACEI

Captopril
6.25 mg 3x daily
50 mg 3x daily
Enalapril
2.5 mg 2x daily
10-20 mg 2x daily
Lisinopril
2.5-5 mg daily
20-40 mg daily
Ramipril
1.25 mg daily
10 mg daily

ARB

Candesartan
4-8mg daily
32mg daily
Losartan
25-50 mg daily
150 mg daily
Valsartan
40 mg 2x daily
160mg 2x daily

Beta Blockers

Bisoprolol
1.25 mg daily
10 mg daily
Carvedilol
3.125 mg 2x daily
25 mg 2x daily for weight <85kg; 50 mg daily for weight =85 kg
Metoprolol succinate*
12.5 - 25 mg daily
200 mg daily

Aldosterone Antagonists

Eplerenone
25 mg daily
50 mg daily
Spironolactone
12.5 - 25 mg daily
25-50 mg daily

SGLT2 Inhibitors

Dapagliflozin
10 mg daily
10 mg daily
Empagliflozin
10 mg daily
10 mg daily

Vasodilators

Hydralazine
25 mg 3x daily
75 mg 3x daily
Isosorbide dinitrate
20 mg 3x daily
40 mg 3x daily
Fixed-dose combination isosorbide dinitrate/hydralazine
20 mg/37.5 mg (one tab) 3x daily
2 tabs 3x daily

Ivabradine

Ivabradine
2.5-5 mg 2x daily
10 mg daily

Diuretics — Loop

Bumetanide
0.5 - 1 mg 1x or 2x daily
10 mg daily
Furosemide
20-40 mg 1x or 2x daily
400 mg daily
Torsemide
10-20 mg daily
200 mg daily

Digoxin

Digoxin
0.125 mg daily
0.25 mg daily
*Unlike immediate-releases metoprolol, metoprolol ER is proven to improve symptoms of heart failure, lower the risk of death from heart failure, and lower the risk of hospitalization due to heart problems. While atenolol is technically another hypertension drug, it doesn't have these additional benefits.
Medications to Avoid in Heart Failure Patients
NSAIDs in all types of HF
Second generation calcium channel blockers such as amlodopine may be used for blood pressire control in HFrEF. Other calcium channel blockers such as verapamil, diltiazem, and nifedipine should be avoided in patients with HFrEF.
Nitrates in HFpEF
Medication questions? Contact the MSHP Pharmacy Team.
---
Preventive Care
Vaccinations for Heart Failure Patients
| | |
| --- | --- |
| Influenza vaccine | Recommended for all patients with HF |
| Pneumococcal vaccine | The PPSV23 is recommended for all adult patients with heart failure. Administration of PCV13 should also be considered for patients = 65 years old |
---
When to Refer to a Specialist
New-onset HF (regardless of EF): Refer for evaluation of etiology, guideline-directed evaluation and management of recommended therapies, and assistance in disease management, including consideration of advanced imaging, endomyocardial biopsy, or genetic testing for primary evaluation of new-onset HF

Chronic HF with high-risk features, such as development of 1 more of the following risk factors:

Need for chronic IV inotropes

Persistent NYHA functional class III-IV symptoms

Systolic blood pressure =90 mm Hg or symptomatic hypotension

Creatinine =1.8 mg/dl or BUN =43 mg/dl

Onset of atrial fibrillation, ventricular arrthymias, or repetitive ICD shocks

Two or more ED visits or hospitalizations for worsening HF in prior 12 months

Inability to tolerate optimally dosed beta-blockers and/or ACI/ARB/ARNU and/or aldosterone antagonists

Clinical deterioration, as indicated by worsening edema, rising biomarkers (BNP, NT-proBNP, others), worsened exercise testing, decompensated hemodynamics, or evidence of progressive re-modeling on imaging

High mortality risk using a validated risk model for further assessment and consideration of advanced therapies, such as Seattle Heart Failure Model

To assist with management of GDMT, including replacement of ACEI or ARB therapy with ARNI for eligible patients or to address comorbid conditions such as chronic renal disease or hyperkalemia, which may complicate treatment.

Persistent reduced LVEF at or below 35% despite GDMT for at least 3 months for consideration of device therapy in those patients without prior placement of ICD or CRT, unless device therapy contraindicated or inconsistent with overall goals of care

Annual review of patients with established advanced HF in which patients/caregivers and clinicians discuss current and potential therapies for both anticipated and unanticipated events, possible HF disease trajectory and prognosis, patient preferences, and advanced care planning.

Assessment of patient for possible participation in a clinical trial
Heart Failure with Preserved Ejection Fraction (HFpEF)
HFpEF treatment focuses on maintaining euvolemia and effectively managing associated comorbidities (coronary artery disease, hypertension, atrial fibrilation, diabetes mellitus, obstructive sleep apnea)